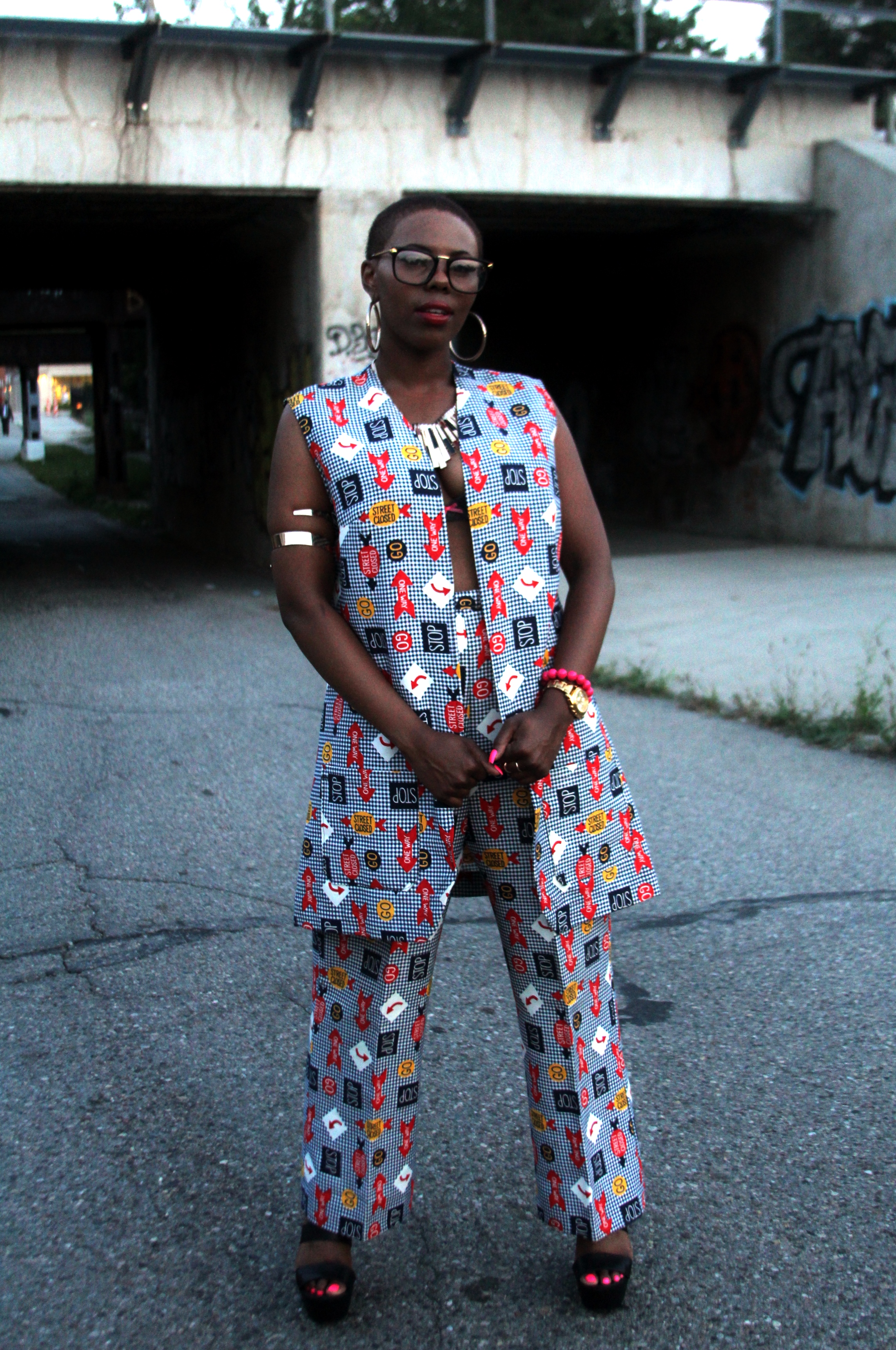 Mina
I was renting a room at my homeboy's crib at the time this photo was taken. It is how I became to be a part of this photoshoot. At the time, his girlfriend was a hairstylist, she was talented and also was encouraging of my styling work. One day she received a call from a photographer friend to come and style a model's hair. I, got a call immediately after, to bring whatever I had & style this model, so I did.
It turned out to be a fun day. The team and Mina, the model, ware all easy to work with. Mina is wearing what I brought:
Alley and Eye sunglasses, My 10year old black jacket, an African face Necklace from Thrift on the Ave. The black leggings are Mina's.
This is usually how it all comes together for the looks that I create. I use what I have, with whatever the model brings. I like it that way.
Photo by Davide.
Alyssa
So I bought a new Lions sweatshirt from Detroit Clothing Circle and a few days later I dressed Alyssa in it.
The look turned out pretty good since it was pretty last minute.
Photo by Brian Oscar
Chavie
Chavis Chandler, a musical artist from the city who is one of the most interesting folks that I've ever met since coming home. I also always respected him for his style and the risks that he takes with fashion.
His album, Dark Skinned Jermaine, Legend of the Leather Britches, really inspired me to go ahead and be dope. I will forever respect that man for that album.
This day, I was visiting the homie's house and Chavis was there. He was quiet and busy concentrating on whatever he was thinking about. I couldn't help but snap a photo of him in this dope dashiki top.
Photo by Me.
Definitive Style Exlusive
Also known as DSE, the founder and creative director James Morris is the ABSOLUTE MAN.
(from his site): The inspiration behind most of the designing comes from all different elements of Detroit culture as well as everyday influences of art, music and life. Growing up in Detroit, there's a certain aesthetic that stands out from other places in the world. In many respects, Detroit is a beautiful ugly place, and observing the people, architecture and landscape is what makes the design process enjoyable. DSE is an "observational" brand, mainly because most of the design ideas come from observing the world that surrounds us.
With that being said, I thought his brand was amazing, full of quality and fully represented Detroit. I contacted James to put this group shoot together and also Mike at Detroit Clothing Circle. We got dressed at The Untitled Bottega.
Styled every single person.
Hair by Athena Daniels
Photo by Bree G.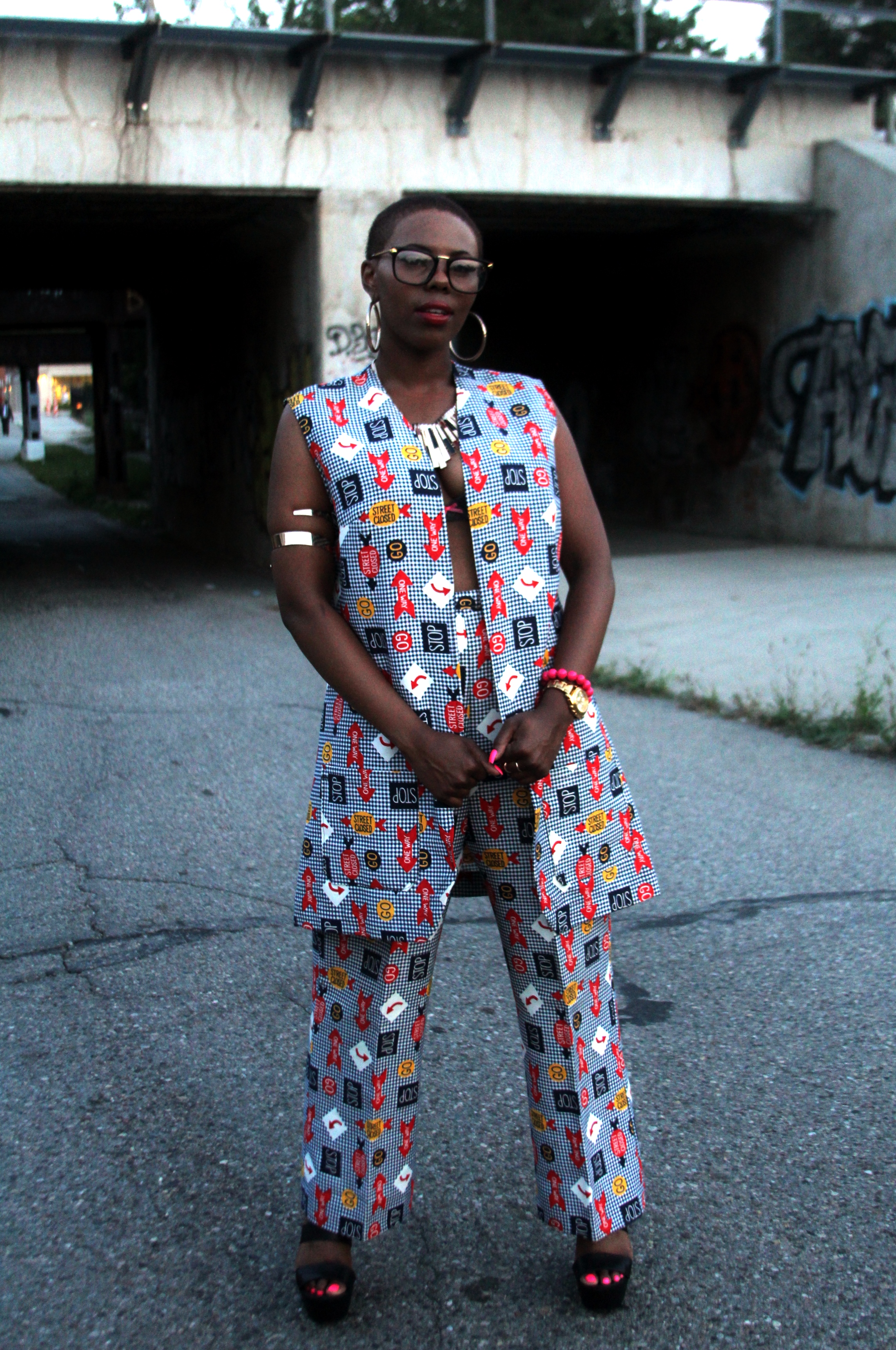 Nastashia
Detroit, MI
A very talented Model from the city and our scene here, Stashie is now living and building in L.A. She's super dope and so sweet.
This look features a plaid, linen short suit. I went shopping one day for this photoshoot and went to my trusted retail location that always gives me gems: Value World.
I grabbed this outfit swiftly, paired it with yellow sandal slides and layered the socks. This gave Stashie an unexpected androdynous look that many have not yet rivaled. Turned out pretty dope if I say so myself